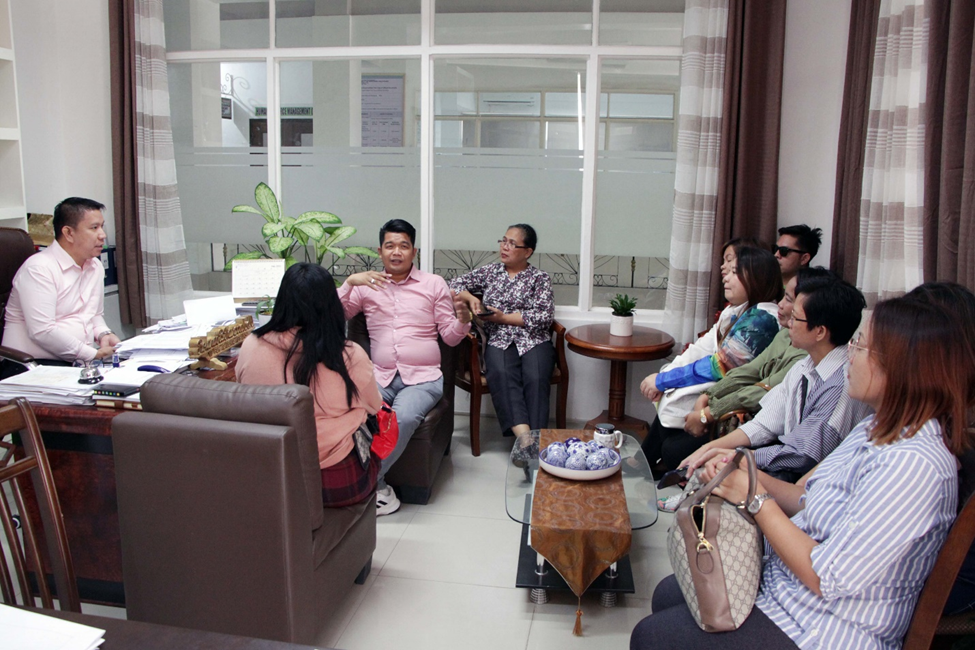 Mr. Marvin P. Plata, MSC's Vice President of Student Affairs, and his team pay a courtesy call to Dr. Rolando B. Navarro, VP for Academic Affairs.
Aiming to learn from UNP's best practices in academics and administration, the Marinduque State College (MSC) visited the University for a benchmarking activity on 22 March 2023.
The activity is for MSC to inquire into UNP's organizational strategies on several areas, one of which is forging international linkages, which is a concern MSC would like to improve on.
Dr. Rolando B. Navarro, Vice President for Academic Affairs, welcomed the delegates and expressed his commendation to Mr. Marvin P. Plata, MSC's Vice President of Student Affairs and Services, dean of College of Allied Health Sciences, and a UNP alumnus.
Navarro described him as an "ever-soaring son of UNP." In response, Plata described UNP as "my second home, my Alma Mater."
Dr. Eleanor R. Belizar, in-charge of the ceremony, introduced the MSC delegates and referred to the College as UNP's "sister institution" because of the connections between UNP and MSC for many years now.
The MSC delegates included Dr. Merryrose R. Palama, director of Student Affairs and Services (SAS); Mr. John Ryan R. Leaño, SAS head for health safety; Mrs. Gemma A. Tirol, SAS head for administration and registration; Ms. Maria Joan C. Ocampoa, SAS head for foreign/international student services; Ms. Joy V. Malilay, assistant dean of College of Allied Health Sciences and program chair of BS Nursing; Ms. Divina R. Vitto, program chair of BS Midwifery; Ms. Lynle M. Mendoza, SAS head for student assistantship and enterprise management services; Ms. Ruby Ann T. Lantita, SAS head for culture and arts; and Ms. Jessica M. Mabiog, member of the secretariat of the Bids and Awards Committee.
MSC inquired on the progress and achievements of UNP's BS Nursing and other medical programs, logistics and requirements on internalization, the structure and processes of the UNP Open University, and programs in sports, culture, and the arts.
Other programs observed were processes in the Office of Student Affairs and Services and entrepreneurial strategies along research and extension.
Mr. Plata expressed his gratitude to UNP for accommodating MSC and Dr. Erwin F. Cadorna's assurance of UNP's support to MSC "in every possible way in our endeavors."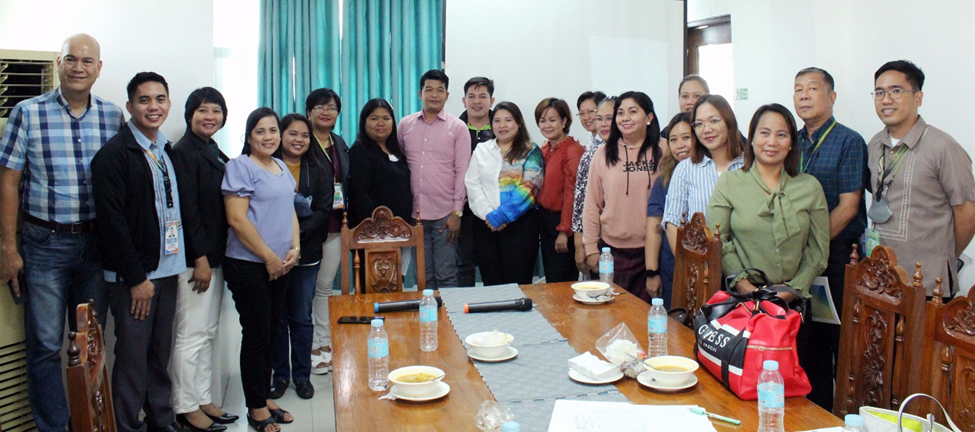 University administrators welcome the Marinduque State College delegation.