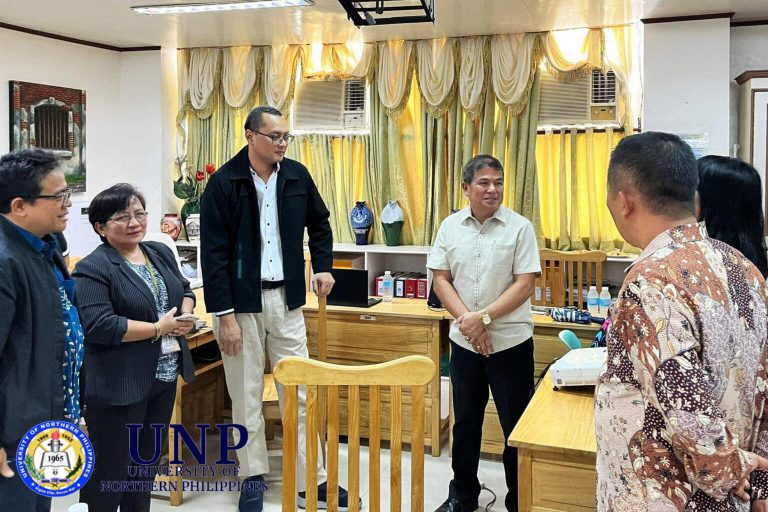 Officials of Universitas Gadjah Mada (UGM), one of Indonesia's top universities, visited the University of Northern Philippines on October 17, 2023.

Looking forward to future collaborations, the UGM delegation is composed of Dr. Endang Soelistiyowati (Vice Dean for Cooperation and Alumni), Dr. Nuryuda Irdana (Head of the Department of Languages, Arts, and Culture Management), Dr. Nur Rokhman (Head of the Department of Information and Medical Service), and Dr.sc.tech. Adhy Kurniawan (Lecturer of the Department of Civil Engineering). They are from the Sekolah Vokasi of UGM.
Future collaborations between UGM and UNP, according to Dr. Soelistiyowati, will include project-based learning program, student exchange and internship, and joint research endeavors.
Dr. Eva Marie C. Avila, officer-in-charge of the International and Public Affairs Office, facilitated the dialogue between the UGM officials and several deans of UNP with whom UGM will soon forge programs.
The deans are Dr. Blessie Cabanting (College of Hospitality and Tourism Management), Dr. Francis Don Nero (College of Nursing), Dr. Joussie Bermio (College of Health Sciences), Dr. Nelia Verzosa (College of Engineering), and Prof. Rosanne Agup (College of Communication and Information Technology).
According to the Quacquarelli Symonds (QS) website, UGM is one of the "most prestigious universities in Indonesia." The institution recently obtained rankings in the QS World University Rankings.