By Kayla Queddeng (BA Comm 4)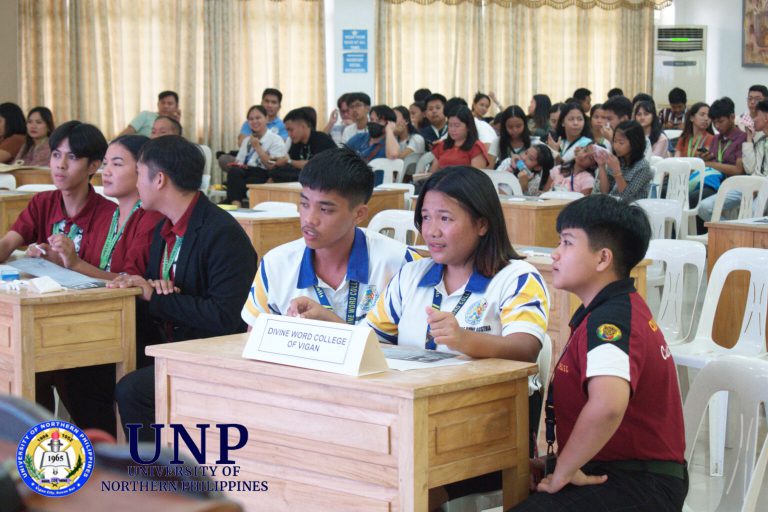 Twenty-four academic institutions in Ilocos Sur joined the University of Northern Philippines (UNP) in celebrating its 58th Foundation Anniversary during the Invitational Academic Quiz Bowl on October 13, 2023 at the Romualdo Tadena Hall with the theme "UNP: Ummong dagiti Nasaririt ken Pagulidanan."
With the support of their coaches, five teams competed at the elementary and college level, both in general knowledge and Ilokano culture. On the other hand, 20 teams participated at the Senior High School level.
"Despite coming from different schools all of the participants did come for one reason: that is togetherness, and to celebrate the founding of the oldest university in the north," Dr. Erwin F. Cadorna, University President, said.
The President also stressed that most of the coaches are alumni of the University.
"It's nice knowing that our university has a long history of transferring knowledge that trickles down to our younger generations—our future," he added.
Meanwhile, winners and participants were awarded on the same day. First placers received Php 5,000, second placers bagged Php 4,000, and third placers won Php 3,000. The Office of the Vice President of Academic Affairs (OVPAA) headed by Dr. Rolando B. Navarro sponsored the cash prizes.
"While not everyone holds a diploma or wears a golden medal or a cash prize, the one with the big heart, with a big smile, who gave it all in the competition are winners in the eyes of the almighty," one of the organizers, Prof. Allen Magdaleno A. De Vera, the head of Department of Languages and Humanities (DLH) under the College of Arts and Sciences (CAS), said during his closing remarks.
He added that everyone exhibited the definition of a real winner by bringing friends, displaying sportsmanship, and competing for their best. Furthermore, he thanked the different faculty and department staff who spearheaded arranging and facilitating the event.
Professors of English Nelson Benzon, Santiago Reolalas, and Mark Louie Tabunan served as quizmasters.
Winners are as follows:
Elementary Level
General Knowledge
1st Place: Divine Word College of Vigan
2nd Place: Gov. Evaristo Singson Memorial School
3rd Place: Cabugao Integrated School
Ilokano Culture
1st Place: Cabugao Integrated School
2nd Place: Caoayan Central School
3rd Place: University of Northern Philippines
Senior High School Level
General Knowledge
1st Place: Sinait National High School
2nd Place: Ilocos Sur Polytechnic State College–Sta. Maria
3rd Place: Banayoyo National High School
Ilokano Culture
1st Place: Banayoyo National High School
2nd Place: Lussoc National High School
3rd Place: Sinait National High School
College Level
General Knowledge
1st Place: University of Northern Philippines
2nd Place: Ilocos Sur Community College
3rd Place: Ilocos Sur Polytechnic State College–Sta. Maria
Ilokano Culture
1st Place: Ilocos Sur Community College
2nd Place: Ilocos Sur Polytechnic State College–Main Campus
3rd Place: University of Northern Philippines