College of Business Administration and Accountancy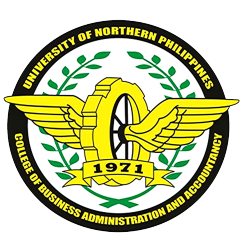 CONTACT US
Office:
Second Floor, New CBAA Building, University of Northern Philippines, Vigan City
Telephone: 632-0601
Email: unpcbaaeagles@gmail.com
Please address all letters to:
DR. GILBERT P. VALDEZ
OIC, College of Business Administration and Accountancy
University of Northern Philippines
Vigan City, Ilocos Sur
About
Goal
Degree Programs
Faculty
About
The College of Business Administration and Accountancy (CBAA) of the University of Northern Philippines aims to produce globally competitive and morally upright professionals in business and allied fields. It provides the foundation of learning about established and accepted theories, principles, practices and strategies of business management, presents the ethical perspective of what business might and ought not to do according to the set of legal and moral standards in the context of national development and globalization, and promotes the holistic development of business students by providing avenues for professional and personal development. This is in line with the vision of the University of Northern Philippines as a global university anchored on excellence and with its mission to produce globally competitive and proactive professionals through excellent instruction, research, extension, and production.
Historically, the CBAA went through significant developments to keep abreast with academic imperatives and advancements. In 1971, the College of Business Administration (CBA) was created. Eventually, by virtue of Board Resolution No. 37, Series of 1990, it was renamed as College of Business Administration and Accountancy (CBAA) to embrace the gamut of its curricular offerings.
In order to address academic concerns and challenges affecting the quality of business education, curriculum planning and development have been continuously conducted in conjunction with other educational processes and guidelines. This resulted to the offering of the following programs: BS in Business Administration (BSBA) major in Accounting/Banking and Finance/Management (1971); BS in Accountancy (1990); BS in Business Administration (BSBA) major in Management Accounting (1994, but phased-out in 2017); Master in Business Administration (1995); Associate in Office Management (1996); Doctor in Business Administration (2001, the only DBA program in Region I); and BS in Hotel and Restaurant Administration (2000, but was transferred to the College of Hotel and Tourism Management.
Some programs were also renamed, to wit: BS in Business Administration, major in Cooperative Management to BS in Cooperative Management (BSCM) in 2000; BS in Business Administration (BSBA) major in Entrepreneurship to BS in Entrepreneurship in 2007; BS in Business Administration (BSBA) major in Banking and Finance to BS in Business Administration (BSBA) major in Financial Management in 2007; and BS Business Administration (BSBA) major in Management to BS in Business Administration (BSBA) major in Human Resource Development Management.
Through the years, the CBAA has managed to effectively and efficiently implement its programs, projects, and activities amidst the challenges brought about by the global demands and the changing societal needs and conditions of the country. Development initiatives along the areas of instruction, research, extension, and production were undertaken vis-à-vis relevance and quality by ensuring that the graduates can competently practice their chosen careers. This arduous academic process enabled the CBAA to achieve the following:
The Accountancy Program of the University of Northern Philippines has earned a reputation as one of the Best Schools of Accountancy in the Philippines as evidenced by the following:
•23rd Top Performing School out of 642 Accountancy Schools in the entire country (2014-2018 CPALE results);
•UNP ranked sixth among the Top 10 High Performing Schools nationwide and ranked second Luzonwide in CPA Licensure Examination covering six examinations from May 2007-October 2009, according to a study conducted by Dr. Rufo R. Mendoza (member of the Board of Accountancy);
•UNP Ranked No. 7 in the Category 100-999 examinees (accumulated number of candidates in the CPA Licensure Examinations within the five-year period covered), UNP is classified as HIGH performing school within that period based on the compilation of statistics of performance in various CPA Licensure Examinations of all schools in the Philippines from 1999-2003 published by the Professional Regulation Commission (PRC);
•Certificates of Recognition/Commendation were awarded by PRC to UNP for its exemplary performance in the CPA Licensure Examination, to wit:
•UNP produced the following Topnotchers in the CPA Licensure Examination: Melody Jade Quilana (9th place in October 2008), Sherwin James Credo (8th place in May 2007), Madelyn Lerma Viernes (14th place in October 1999), and Emely Querubin (20th place in October 1997).
In addition, the College is one of the pioneering business schools in the Philippines which has integrated Business Analytics subjects in the BSBA curriculum per CMO 11, Series of 2013.
Innovative teaching/learner-centered strategies are utilized to enrich the knowledge, enhance the competencies, and reinforce the values of students such as:
•Annual Business Week Celebration cutting across programs;
•In-House Training Programs on Financial Management, Human Resources Development, Financial Accounting and Reporting, Entrepreneurial and Cooperative Development among others and the Annual Leadership Capability Building;
•Management of Individual Bank Account, Mobilization of Savings and Loan Programs;
•Public Information Campaign on Demonization of the Old Generations Currency and Coin Recirculation Program and Savings Mobilization (these programs have been monitored and evaluated by the Bangko Sentral ng Pilipinas Region I which resulted to the conferring of the Award "Outstanding Regional Partner for Implementing BSP Advocacies on the Conduct of Public Information Campaigns"
•Academic competitions (Business Ideas Development Award (BIDA) was given to BS Entrepreneurship student participants by the Philippine Chamber of Commerce and Industry (PCCI), First Place in Business Planning and Development Competition sponsored by the Provincial Government of Ilocos Sur and Department of Trade and Industry (DTI) in celebration of Kannawidan 2020.
The academic programs conduct extension services as an avenue for the faculty members and students to share their expertise along business management and to promote the socio-economic development of the partner communities through the "Adopt-A-Barangay" and "Coopreneurship" programs.
Further, strong linkages with development partners is highly evident in the following forms:
•Special Training Program in Business Analytics for Business Administration Faculty Members in Region I with UNP as the host Delivering Higher Education Institution (DHEI) in partnership with CHED
•Trainers' Training Program in partnership with Cooperative Development Authority through the UNP Cooperative Development and Training Center (CDA-Accredited Training Provider)
•Cooperative Care Program in partnership with Local Government of Vigan and Department of Agrarian Reform, Province of Ilocos Sur
•Go Negosyo in partnership with Department of Trade and Industry
With regard to students' development programs, the College provides co-curricular and extra-curricular activities in partnership with the Office of Student and External Affairs (OSEA) to enable the students to become effective and dynamic partners of development and engage in worthwhile projects as part of their learning towards responsible citizenship. Corollary to this, the College has mandated and accredited organizations that serve as role models on student leadership, good governance and social responsibility. These organizations proved to be formidable frontliners in student leadership being recipients of different awards in institutional, provincial, regional, national and international levels.
Through the years, the College has been a provider of competent manpower in local, regional, national and international levels. They have become accountants, auditors, consultants, administrators, estate examiners, managers, practitioners, academicians, financial analysts, entrepreneurs, politicians, administrative staff, among others.
Goal
Degree Programs
Faculty