The University of Northern Philippines (UNP) collaborated with the Don Mariano Marcos Memorial State University (DMMMSU) for the 6th Regional Research Congress held at the UNP Tadena Hall on September 28–29, 2023.
The theme of the Congress is "Traversing Pathways towards a Sustainable Future through Interdisciplinary Research."
Dr. Erwin F. Cadorna, UNP President, stressed that the Congress was initiated to facilitate knowledge exchange and collaboration among diverse stakeholders, thus bringing together experts from fields as diverse as environmental science, economics, sociology, engineering, and policy analysis with the aim to create a fertile ground for cross-pollination of ideas.
Dr. Angelina T. Gonzales, DMMMSU Vice President for Research, Development & Innovation, pointed out that the support to the vibrant exchange of ideas, knowledge, and best practices is part of the commitment to this partnership.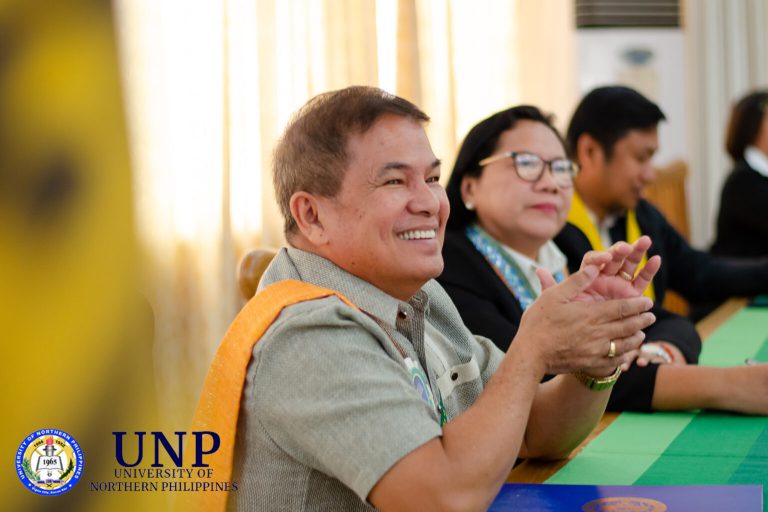 Dr. Erwin F. Cadorna (UNP President) and Dr. Angelina T. Gonzales (DMMMSU Vice President for Research, Development & Innovation).

"147 research papers were presented. Authors were from the provinces of Abra, Kalinga, Ilocos Norte, Ilocos Sur, and La Union. In addition, the presentations were assessed by evaluators from UNP and DMMMSU, together with external evaluators from other state colleges.
The presentations were categorized into the areas of Social Science; Performance Evaluation and Teaching Strategies; Educational Administration; Business, Technology, and Industry; Environment and Food Processing; and Agriculture and Fisheries.
Dr. Edelyn A. Cadorna, Director of UNP's Research & Development Office, introduced the keynote speaker, Mr. Decth 1180 P. Libunao, representing Dr. Teresita A. Tabaog, OIC of the Regional Director of DOST Regional Office No. I.
He emphasized the significance of interdisciplinary research and its ability to guide researchers towards sustainable solutions.
Mr. Libunao also highlighted that interdisciplinary research acts as a compass for addressing sustainability challenges. Researchers are architects of knowledge, and their vision is to extend far beyond the confines of their individual discipline.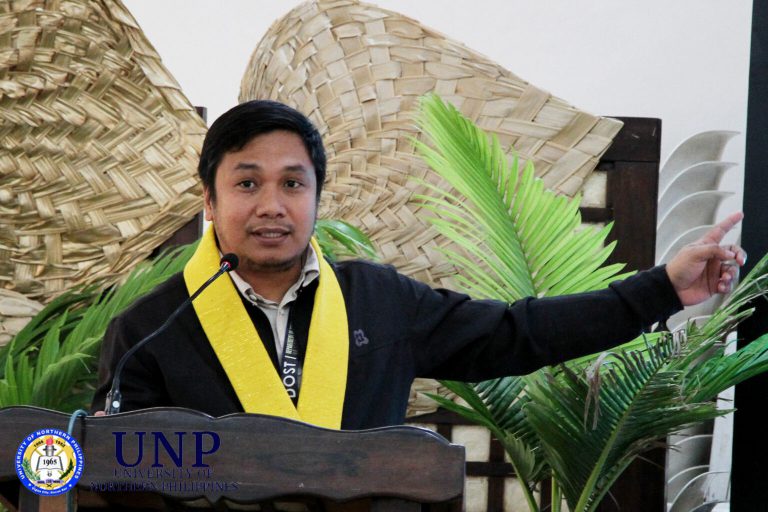 Mr. Libunao delivers the speech of Dr. Tabaog.

Dr. Erwin F. Cadorna emphasized that complex issues like climate change, biodiversity loss, resource depletion, and social inequality cannot be solved by a single discipline alone. Instead, they call for the convergence of ideas, methodologies, and perspectives from various fields to develop holistic and effective solutions.
"Together, we will chart new pathways toward sustainability, armed with the knowledge and innovations born from the fusion of diverse perspectives and expertise," he ended.
The event also included the signing of a Memorandum of Agreement (MOA) between UNP and DMMMSU. This MOA aims to enhance technology transfer and strengthen research efforts and collaboration between the two universities.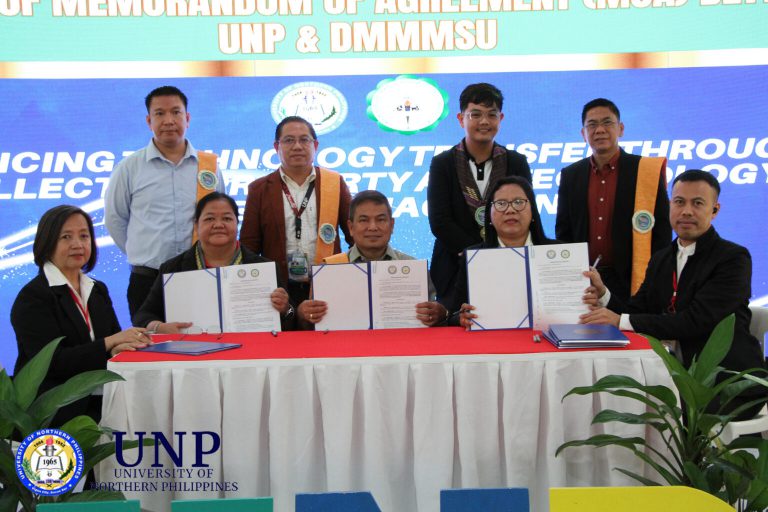 Dr. Erwin F. Cadorna shows the MOA signed with the DMMMSU officials. With him are Dr. Angelina T. Gonzales (VP for Research, Development & Innovation) and Prof. Keneth G. Bayani (Director, Research) (seated fourth and fifth from left). Also in the picture are UNP officials, namely: Dr. Edelyn F. Cadorna (Director, URDO) and Dr. Fatima F. Rocamora (VP for Research and Extension). At the back are VP Rolando B. Navarro, Faculty Regent Mario Obrero, Student Regent Jhunel Tanurio, and VP Albert Tejero.

The said MOA capitalizes on the resources of both universities. DMMMSU has its Agri-Aqua Technology Business Incubator (ATBI). UNP has the Intellectual Property and Technology Business Management (UP-TBM) Office funded by the Department of Science and Technology (DOST), the Aqua-Marine Research and Development Center (AMRRDC), and the Mushroom Research and Development Center.
The MOA stipulates that the two parties shall conduct collaborative research and product innovations through sharing of technical experts and facilities; promote agri-aqua technologies for incubation and commercialization of both parties; and monitor the progress of co-incubation activities and services rendered to the incubates.
In addition, they shall also participate in capacity building activities in research and innovation by either of the parties and provide reports and other information related to the collaborative undertakings.