UNP Manages to Stage 57th Graduation Rites
K-12 curriculum. Covid-19 Pandemic. On-line classes. Natural calamities.
These were the challenges that beset the graduating class of 2022.
The University of Northern Philippines 57th graduation ceremony was set on 28 July 2022. The 7.0 magnitude earthquake that jolted Ilocos Region the day before and the series of aftershocks days after prompted the administration to postpone the event.
On 05 August 2022, UNP successfully staged the graduation rites. It was held at the university gymnasium at 2:00 o'clock PM. Dr. Erwin F. Cadorna, UNP President, conferred degrees and certificates to 3426 graduates.
Hon. Ronald V. Singson graced the event as the Guest of Honor and Speaker. In his speech, he congratulated the UNP Class of 2022 for their milestone. "My dear graduates, this celebration reminds a partnership with the parents, school officials, and yourselves," he stressed.
Hon. Singson also promised to continuously support the education sector. "As a representative in the congress, I vow to champion legislations and policies along education".
He also encouraged everyone to try their best to succeed. "You success depends on you. Do your best and succeed," he stated.
Hon. Marita R. Canapi, Commissioner, Commission on Higher Education and Chairperson-Designate, UNP Board of Regents, also extended her congratulatory message to the graduates.
This year's commencement exercises is deemed to be historical too, as the university produced its first ever summa cum laude graduate- not just one, but five of them.
The five summa cum laude graduates are: Nina Paulette F. Agsaullo (Bachelor of Secondary Education- Filipino); John Bernard D. Degracia (Bachelor of Elementary Education); Edgar D. Loquiao Jr. (Bachelor of Arts in Communication); Katrina Jade A. Pajo (Bachelor of Science in Physics); and Joan P. Reyes (Bachelor of Arts in Communication).
There were 50 graduates who were awarded magna cum laude, 501 cum laude, two with high honors and 129 with honors.
Joan P. Reyes, in her valediction, shared her musings about being the batch who has seen a lot of sudden unexpected and cosmic events in history.
"To have gone through all these, and even more notably to have made history coming out of it, must only mean that we are rather equipped to take on what is next because after all, isn't it the way of things that as one story ends, another begins?" she posed.
Reyes also reminded her fellow graduates that it is not always what the world holds for them, but what they bring that matters.
"First, humility. I hope that when we are confronted with a great learning opportunity, we get to embrace the value of acknowledging our cognitive blind spots and accepting the vastness of our own ignorance so much that we unconsciously start to create a culture that celebrates humility over arrogance, because it is only by recognizing that we might be wrong, can we truly be right," she emphasized.
Reyes also pointed out the value of excellence. "Let us be excellent by doing the right thing and by protecting the truth."
Further, she highlighted how important it is to combine knowledge and service to be of service for others. "Let us try and use whatever we have (knowledge, skills, values) however we can, wherever and whenever it is needed, to render service to others and hopefully make this world a little better."
For the induction of graduates to the UNP Alumni Association, Hon. Nestor B. Pajaro, President of the UNP Federated Alumni Association facilitated. Also, Katrina Jade Pajo of the Bachelor of Science in Physics program led the Pledge of Loyalty.
This year's graduation is the university's first time to hold general face-to-face commencement exercises since the  pandemic in 2020.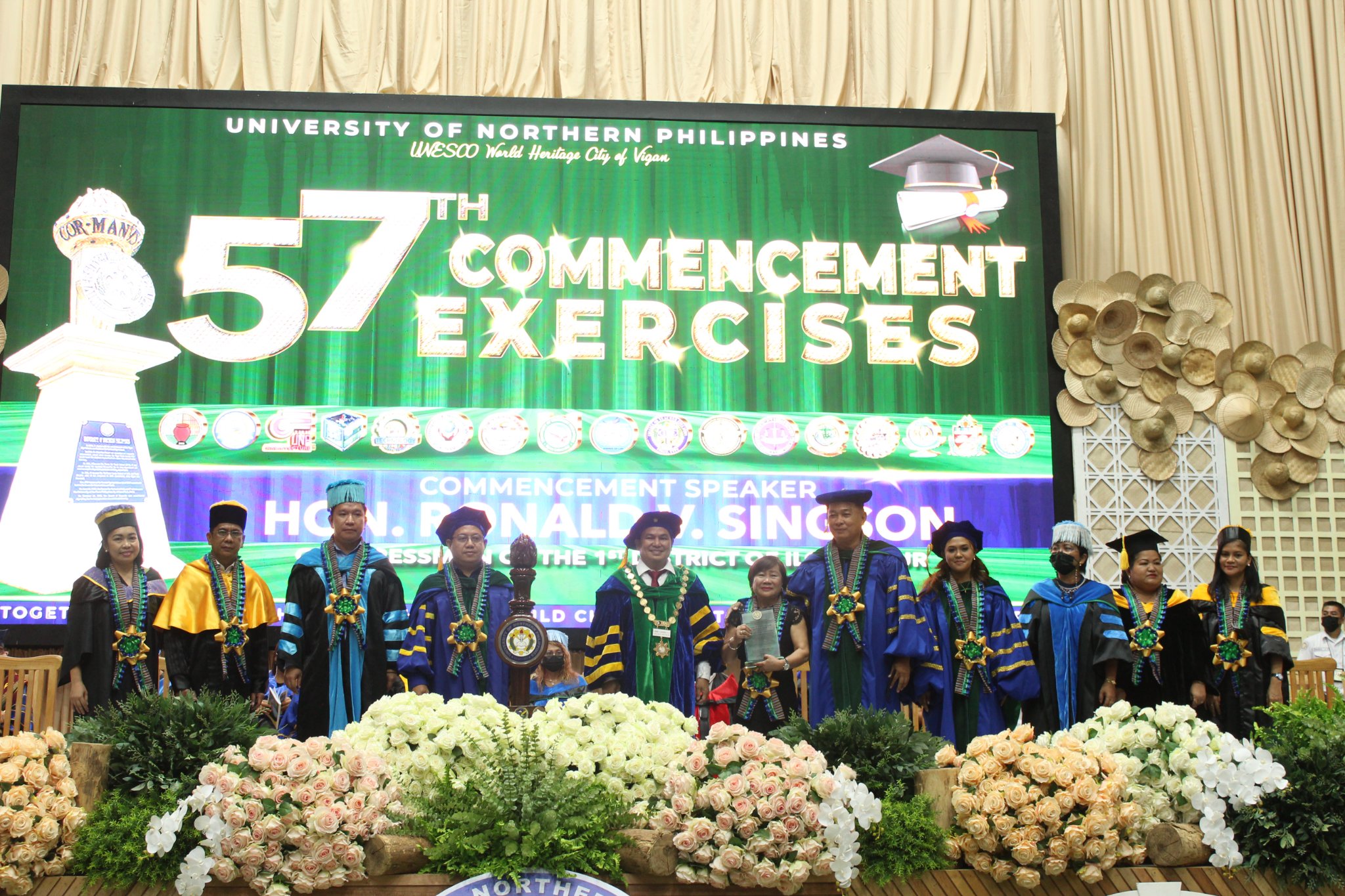 Source: UNP-PIO | Graphics: ITIMDS-ISMDS