There is no other way but to be global. SIRMATA: Region I Filipino Leaders in Advancing International Reputation (RI FLAIR 2) emphasized the need for universities to take space to bolster their international reputation. The event is held at the UNP Tadena Hall, starting October 18 until October 20, 2023.
Hosted by the University of Northern Philippines, RI FLAIR 2 is an International Masterclass for Higher Education Institutions in Region I with the theme, "Elevating Global Excellence: Strategies and Insights for Effective Higher Education Internationalization."
The three-day event was attended by 18 HEIs in the region and made possible through the baton of Dr. Al Gerald S. Barde, Education Supervisor II at CHED ROI.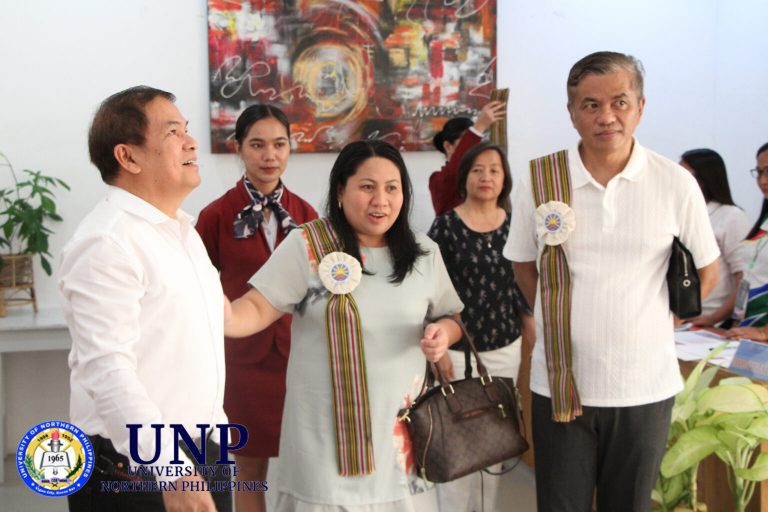 Dr. Erwin F. Cadorna welcomes CHED ROI Director Christine Nabor-Ferrer and ISCC President Arnel Doctolero.

The program was graced by the welcome remarks of CHED ROI Director, Dr. Christine Nabor-Ferrer, highlighting the importance of internationalization as a global mindset. She also commended the hospitality and dedication of UNP for hosting the said activity.
"International visibility strengthens each HEI's reputation in the global arena, making it a necessity for all HEIs," she stressed.
Fostering international collaboration in addition to academic performance and with sustainable goals has a significant impact on engagements and impact rankings in the present and the future.
"Internationalization in our academe lies in our ability to prepare students for a globalized job market," stressed President Erwin F. Cadorna.
He also added that today's globalization initiatives include the formation of networks, partnerships, and cross-border student and faculty movement. With these strategies, cross cultural sharing and advancement are attained. Garnering fresh perspectives and beneficial alliances outside the country fosters international mobility.
To be global also comes with ethical imperatives. Atty. Lily Freida M. Milla, OIC Deputy Executive Director, International Affairs Services-CHED, represented by Franz Louie Franco, Special Projects Team Lead (IAS), quoted Piere De Maret and Jamil Salmi's statement that "With global visibility comes global responsibility."
Franco presented the importance of international rankings and ratings. In line with international rankings, he also shared with the participants an introduction on the CHED-recognized rankings and ratings. Accordingly, international rankings have evolved from being "rankings for competition's sake" to focusing on "universities that are for the society" which captures the greater goal of universities.
The video presentation of Dr. Shirley C. Agrupis, President of MMSU, was shown after Mr. Franco's talk. She shared her experiences and insights on the impact of international recognition and rankings on HEI's institutional development.
For her, forging collaborations and sustaining quality and consistency bear a positive impact on the standing of an HEI for public good as it tries to meet international standards.
The HEI Champions continued the knowledge sharing during the afternoon and engaged with workshops.
CHED RO1 Director Ferrer awards to Dr. Cadorna the certificate of appreciation for UNP for hosting the event.

Public Information Office
Guidance and Counseling Services